Fly away into a beautiful aerial landscape and dare to dream
A project by Thi Binh Minh Nguyen and Christin Marczinzik.
"Swing" is a playful VR installation using HTC Vive and Kinect. The swing itself is the central input element. This innovative combination of analog and digital elements provides a particularly immersive experience for the player. In addition, the installation is extraordinary, spectacular and yet accessible, which makes Swing popular for user groups of all ages and has already found its way into several exhibitions and festivals around the world.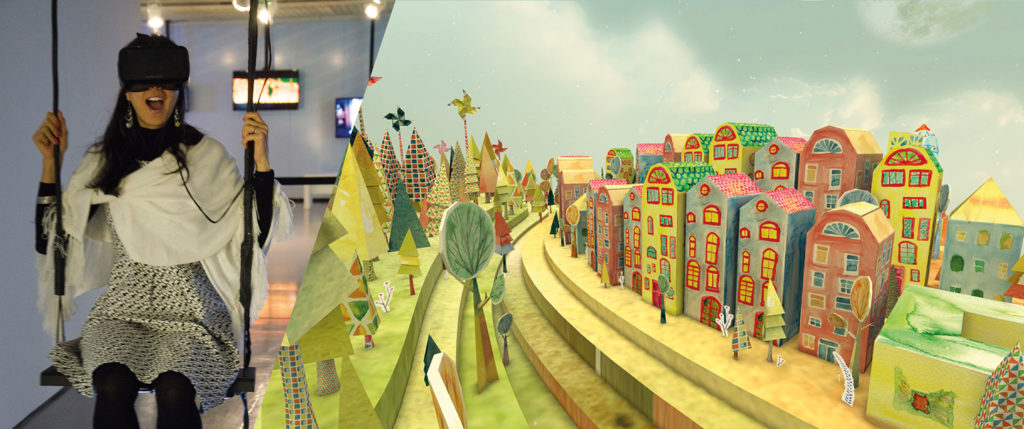 Ever since we were kids, swings always fascinated us. Today, when we see a swing, we like to remember the fun we used to have while playing as kids. While swinging, we feel isolated from the outside world, weightless and free. This feeling is what SWING VR is helping to re-experience, and it also fulfills a dream that was previously only possible in imagination: the dream of flying like a bird.
A real swing is staged as a physical input element in an interactive installation. The additional use of a VR headset extends the experience by virtual reality and creates a unique immersive adventure. The user soon leaves all earthly burdens and his everyday life behind, finds inner peace on his way up to the sky and sees the world in new colors. How high you reach into the virtual sky depends on the duration and intensity of your swings in the physical world.
Paper as a material creates a naive look for the virtual environment and is the main design element used. Therefore, shapes with hard edges and origami folds dominate in a mixture of 2D and 3D objects. These come to life using a carefree, analog watercolor texture technique with vibrant areas of color, gradients, and patterns.
The influence of playing on a swing set for the human mind has stayed a mystery up to now and has been investigated in medical institutions for quite some time. It's certain that the rhythmic rocking movement has a positive effect on the psyche and well-being. We want to use and intensify this sensual effect to help the swinging person dream and expand his consciousness.
Tools 3ds Max, Blender, Cinema 4D, Unity3D
Period2014 - 2017