Surviving underwater may not be as easy as you think!
Project Nemo is the digital extension of the Escape Room adventure "20.000 miles under the sea", which we developed for ExitGames – Halle.

In this "Escape Room" adventure, players find themselves on the bridge of the Nautilus. However, it seems to have gone very deep, because the searchlights of the legendary submarine are the only light sources so far below the water surface. A few isolated shoals of fish scurry past the open bulkheads. In the course of the adventure, however, the players meet a much more dangerous deep-sea inhabitant – a great white shark.
In the room itself, the team's task now is to solve the numerous puzzles together quickly enough before the shark damages the submarine too badly and it inevitably sinks to the bottom of the sea.
We were not only responsible for the technical implementation but also the visual design of the digital submarine and its surroundings. Our work includes the sound design of the underwater world, the animation of the shark and shoals of fish, particle systems as well as lighting. Three large monitors form the main display; two smaller monitors were converted into "portholes," for which we created short film sequences of our shoals of fish.
The application itself is designed in such a way that it can be controlled by the game master himself from outside the game room. This remote access ensures that the gaming experience is much more intense since certain events can be triggered at the right time at the touch of a button. These "events" are not completely scripted, but in parts generative. This way, we ensure that no run of the game looks like the previous one.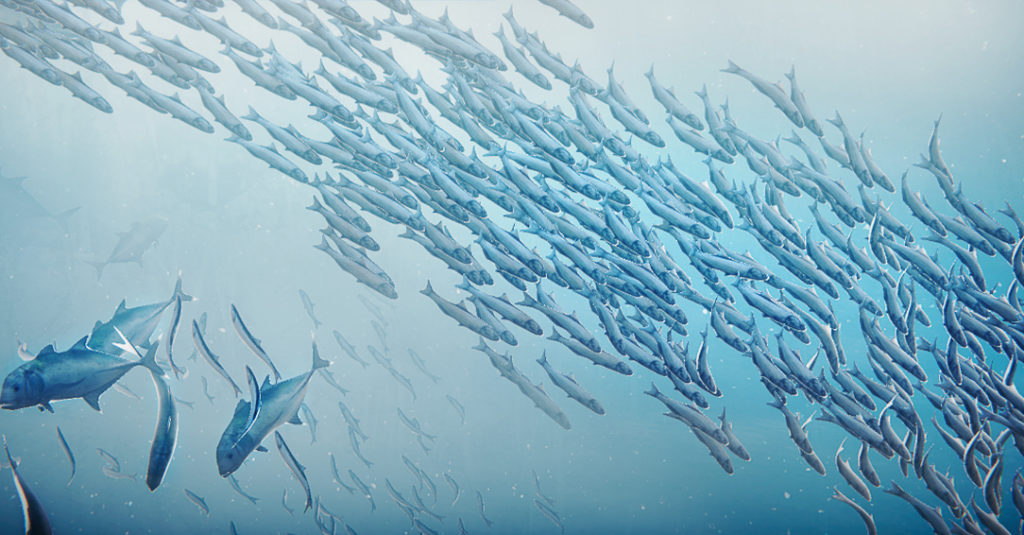 Behind The Scenes
Tools 3ds Max, Unity3D
PeriodJuli 2018
ClientExitGames Halle