The first contact with extraterrestrial life takes place at the bottom of the sea.
Inspired by the endless beauty of the deep sea, the VR adventure blurs the boundaries between biological facts and science fiction. An unknown predator conquers our seas and threatens human life and the planet's ecosystem.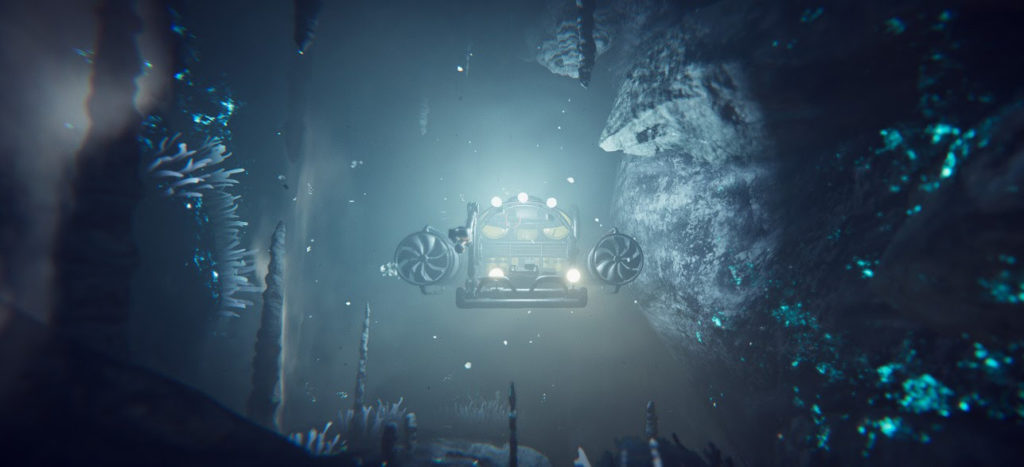 The story of Bioluminescence was written by Abel Kohen and Jon Rowe. The deep-sea universe is set in our time, when the world is shaken by man-made climate change and our oceans are under the invasion of an alien parasite. The spread of infection is the first step in a larger extraterrestrial life-form plan to combat the threat of humanity to the life on Earth.
In 2018, we developed a VR application that was originally intended to accompany a planned web series on Bioluminescence in an interactive form. The player takes control of a deep-sea submarine and explores a living underwater world whose depths are illuminated by bioluminescent creatures.
During this development it quickly became clear to all people involved that the universe of bioluminescence still has room for much more than just a VR episode and the idea for an independent VR experience was born.
Tools 3ds Max, HTC Vive, Oculus Rift, Substance Painter, Unity3D
PeriodOct. 2017 - May 2018
TeamFelix Herbst, Paul Kirsten, Marvin Podsendek
CooperationReynard Films, Abel Kohen, Jon Rowe, IKO, Fauns