Learning beyond the books.
Winner of the Epson Moverio Develop The Future App Challenge
Teaching science can be hard, especially when it comes to more abstract themes. Dáskalos makes learning fun and explorative again. Usable both for beginners and as an interactive reference book, it shows information about such diverse topics as platonic solids, optical lens systems, momentum conservation for pendulums, atom models with fusion, vector analysis and many more. The content is fully interactive and the interaction's playful – instead of boring and grey. The topics immediately become more tangible and easier to grasp, as they deal with spatial phenomena that are hard to explain in textbooks or static graphics. Knowledge can be transferred more directly and is combined with beautiful interactive models and systems which is, unfortunately, missing in many recent AR applications.
Dáskalos Chemistry shows the chemistry part of Dáskalos in action. The full periodic system is available, atoms and molecules can be observed and analyzed in augmented reality. They are accompanied by hands-on, printed learning materials. Moving an atom closer to you reveals the inner structure, including electronic configuration and properties. Moving it further away shows the color-coded structure of the element using the CPK coloring scheme, the most popular system for distinguishing chemical elements.
Funding provided by the European Regional Development Fund (ERDF)
Based on the prototype for the Epson Moverio AR headset, Dáskalos will also be available for iOS/Android smartphones and tablet PCs in the future. The learning content and exercises can thus be called up at any time, whether at home, with friends or even in school lessons. Modern standards such as ARKit or ARCore ensure high compatibility on the numerous end devices and bring new and innovative features such as Persistent Experiences to continue a started exercise later, or Shared Experiences to look at the same digital scenery from several smartphones (e.g. in school classes).
The development of Dáskalos as a mobile app is supported by the European Fund for Regional Development (ERDF) within the context of the Digital Creativity funding programme of the state of Saxony-Anhalt from August 1, 2019 to July 31, 2021. The development is expected to be completed by the end of 2021.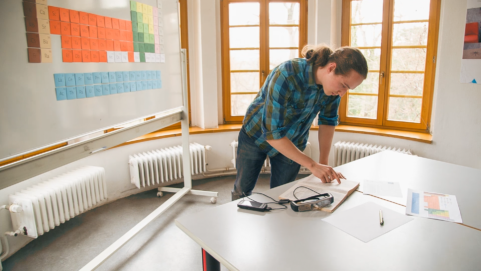 Tools Epson Moverio AR Glasses, Unity3D
PeriodMarch 2015