Wedding, Steady, Go – En Route to the Wedding of the Century 1719
The wedding of the Elector of Saxony Frederick Augustus II with Maria Josepha of Austria was over 300 years ago. To celebrate this anniversary, the Transport Museum Dresden presents a special exhibition from August 2019 to April 2020, throughout which the bridal couple's magnificent carriage and its horses are brought to life with the help of Augmented Reality.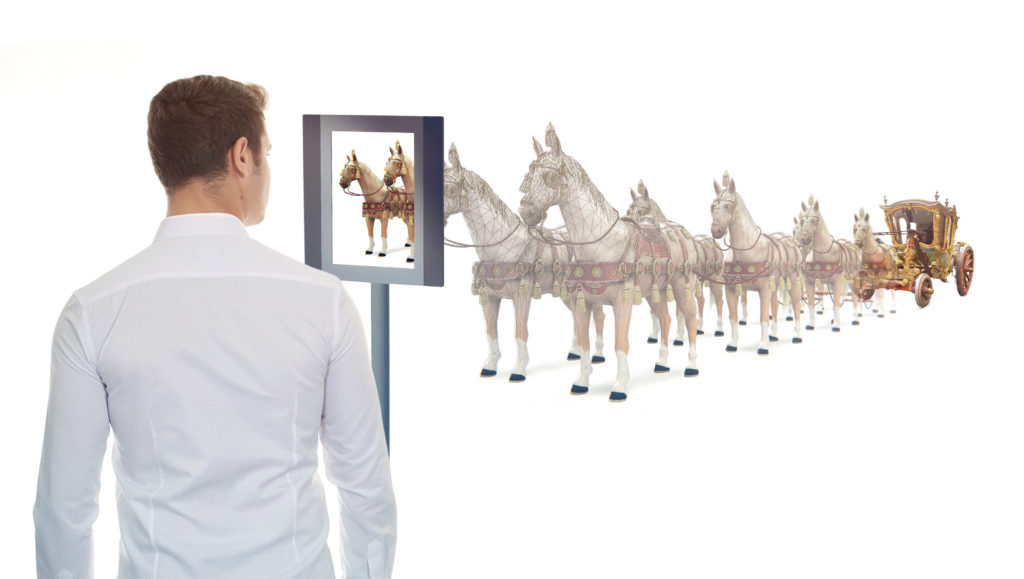 The carriage's magnificent team of eight horses can be virtually admired on permanently installed tablet PCs. Visitors can look at the animals from two different positions, while the real carriage can be seen in the background.
Special attention was paid to represent the horses such that they were detailed, historically correct, and behaviorally realistic. From the strengths of the straps to the materials of the fittings they wear, from the type of decoration to the texture of their hair, every detail on the horses was carefully worked out.
In order to lead museum visitors into the exhibition room, there's also a projection at the entrance, which shows the horses in their full glory and at life-size scale. Together with the Augmented Reality horse and cart, we created a digital extension of a classic museum exhibition that offers additional benefits in terms of both content and quality.
Behind the scenes
Tools Autodesk 3ds Max, Substance Painter, Unity3D
PeriodMarch - August 2019
ClientTransport Museum Dresden
TeamPaul Kirsten, Marvin Podsendek, Björn Ording
CooperationFormikat GbR