Tailor-made thermoplastic materials in VR
In the future, thanks to the DigiLab app, material developers will not only be able to identify compounds for a material with very specific properties in a matter of minutes, but will also be able to literally immerse themselves in the complex data with the help of virtual reality.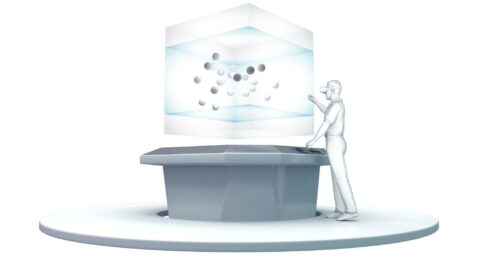 Three development partners from Saxony-Anhalt are currently researching how this can work, what advantages 3D technology offers users and manufacturers alike, and how materials can be optimized even better with it. In addition to prefrontal cortex, the compounding experts at Merseburg-based Exipnos GmbH and the renowned Fraunhofer Institute for Microstructure of Materials and Systems (IMWS) in Halle (Saale) are also on board as development partners.
"The requirements for polymers are becoming increasingly complex," explains Dr. Patrick Hirsch from the Fraunhofer IMWS. For example, users can already choose from more than 20 parameters in the POLYKUM DigiLab® app, from elasticity to density to tensile strength. Even bio-based or recycled materials can be specifically selected. True, usually only three to five are crucial for a particular application. "But even the resulting complexity of the data can hardly be represented on the screen," he says. "With the help of VR technology, we want to make it much easier to select the right material." Users will be able to immerse themselves in spatial diagrams, the VR color lab and perhaps even molecular structures in the future, according to the project partners' vision.
The research work is part of the research project "Investigation of the use of virtual reality systems for the formulation and processing of novel plastic compounds from technical biopolymers" ("Erforschung des Einsatzes von Systemen der virtuellen Realität für die Rezeptierung und Verarbeitung von neuartigen Kunststoffmischungen aus technischen Biopolymeren"), which is funded by the Investment Bank of the State of Saxony-Anhalt (funding code: ZWB 2004/00079).
Funding period: 01.04.2020 – 31.07.2022

PeriodApril 2020 - ongoing
TeamChristian Freitag, Timo Pointke, Elitza Todorova, Tim Schuster
CooperationFraunhofer IMWS, Exipnos GmbH, AppsolutEinfach UG